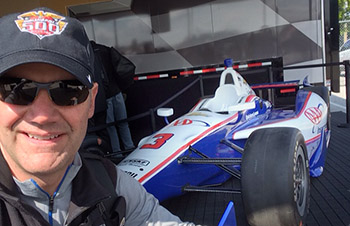 I'm sure you can tell from my personal vehicle what a total gear-head I am. I mean, velour seats, CD player, and over 100 horsepower. So it was merely an extension of my personality when Brian Malone of Malone Media asked me to assist his camera dept. on a documentary shoot taking place at this year's Indy 500.
The story: Racing legend (ex-driver and team owner) Sam Schmidt was preparing to take the wheel of a custom Corvette C7 Stingray for a couple exhibition laps. The challenge was that Sam has been paralyzed since an accident 15 years ago. That's where Malone's documentary picks up.
Brian's clients, Craig Hospital and Arrow Electronics, purpose-built Sam a SAM, or semi-autonomous motorcar. He can control it with just head and jaw movements, and its Ball Aerospace/US Air Force-designed driver controls have all the finesse of a regular race car, but with cutting-edge infrared and motion-tracking technology.
Yes, Sam took a bunch of laps, and eased his new speedster to just over 100mph!
Learn More About Sam Schmidt Paralysis Foundation Here